BMus (Hons) MMus LRAM PGCE
Member of ISM (Incorporated Society of Musicians)
Member of ASTA (American String Teachers Association)
I am a violinist and violin teacher with over 30 years' experience of teaching violin to people from a huge variety of backgrounds, from very young children to retired adults. I live in Devon, UK and teach both locally and via the internet.
My dream is to help people develop their understanding of the principles of violin technique so that they can play better than they ever thought possible. I hope also to give pupils the confidence to teach themselves, whether through learning how to select repertoire, where to look for sources of learning and how to observe, evaluate and deduce things about their own playing.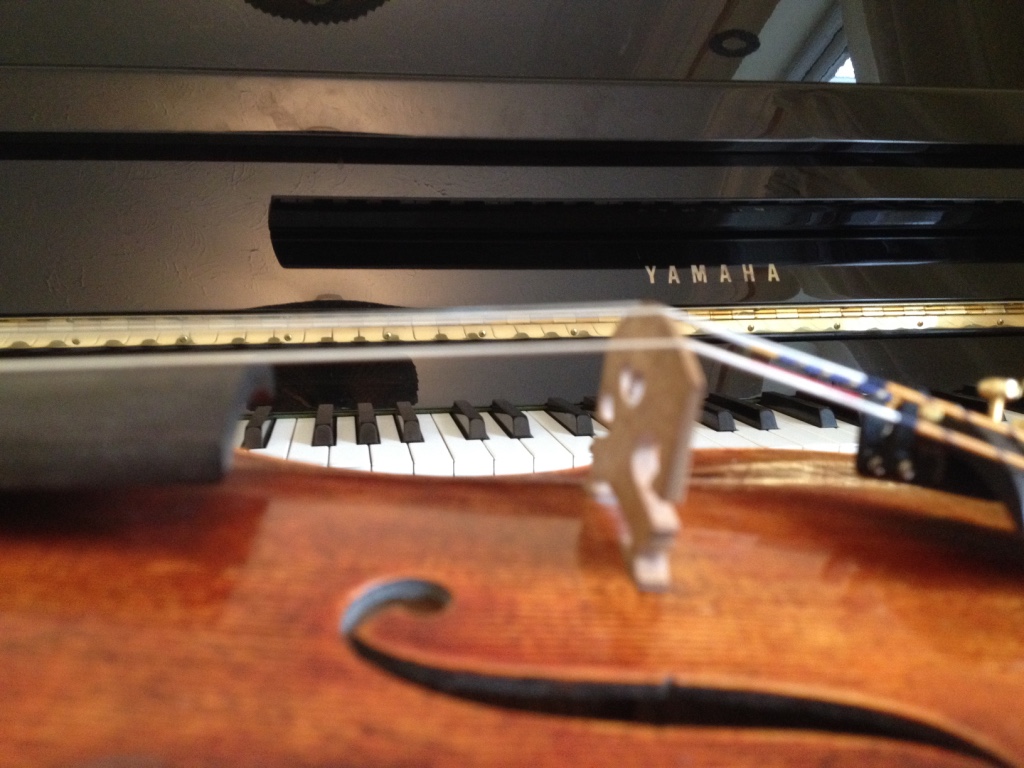 As a child I was a junior exhibitioner at the Royal College of Music. I then studied for a BMus at Manchester University, where I studied viola with Robin Ireland, and chamber music with Bernard Gregor-Smith and Peter Cropper. After moving back down south again, I started teaching the violin and viola, and soon discovered my love of teaching. After some ten years of developing teaching within a range of different settings, and a private practice at home, I decided to uproot and move north again, this time to Sheffield University, to study for a Masters in Performance. Receving expert guidance and encouragement from Nina Martin, with whom I was fortunate to study, I specialised in the Beethoven Violin Sonatas, giving public performances of the complete set, and writing a thesis "Achieving Meaning" about their composition. I covered a huge range of repertoire in addition to the Beethoven, and also played lots of chamber music, including some public concerts. I decided for family reasons to move to Devon, where I have lived since 2006. I now teach exclusively from home, both in person for local pupils and on zoom for those more remote from Devon!
I also play regularly – in fact I still maintain a daily practice habit and challenge myself to improve. In this way I can empathise more fully with my pupils, better understanding how we set ourselves goals and targets, and deal with any self-doubt and uncertainty as to whether we will achieve them!
Since living in Devon I have performed the Beethoven Violin Concerto, the Haydn G major concerto and Mozart's Sinfonia Concertante, with orchestras. I lead the orchestra for the Ottery St Mary Choral Society, and the Classics Galore Symphony Orchestra, with whom I have performed the Theme from Schindlers List. I gave a performance of the  unaccompanied Bach Partita in D minor including the Chaconne, as part of the 10 Parishes Festival. I have also given many quartet performances, especially as 1st violin with the Clayhanger Quartet, with whom we performed numerous Haydn Quartets, Beethoven op.18 No.1, Dvorak American, and E flat quartets, Schubert Death and the Maiden, A minor Quartet and Quartetsatz, Borodin 2nd Quartet and Smetana 1st quartet, as well as string quintets by Mozart and Dvorak, and the piano quintets of Dvorak, Brahms and Elgar with pianist Roger Stephenson. I gave a solo recital as part of Music at Wellhayes, including sonatas of Mozart and Beethoven, and the Brahms Sonatensatz.